Valet Trays are items of furniture that should never be missing at home. Its use is as effective as it is: in fact everything in your hand or pocket can be placed there avoiding so to loose or having to look around for your items.
Specifically the valet trays are usually placed nearby the entrance of the house, on cabinets, so that you can leave your keys, coins, receipts, small items and anything else you want when you arrive in your house. This extremely handy accessory is really important for your everyday life, it actually help us to organize and store personal effects that we use more frequently, without risking to forget them somewhere and searching for them room by room. Its main purpose is not to furnish the entrances, but it will be a must piece to put nearby the front door as it is the place where all we necessarily pass through, therefore it can be seen as a business card for our home, completing the house look and making our life easier.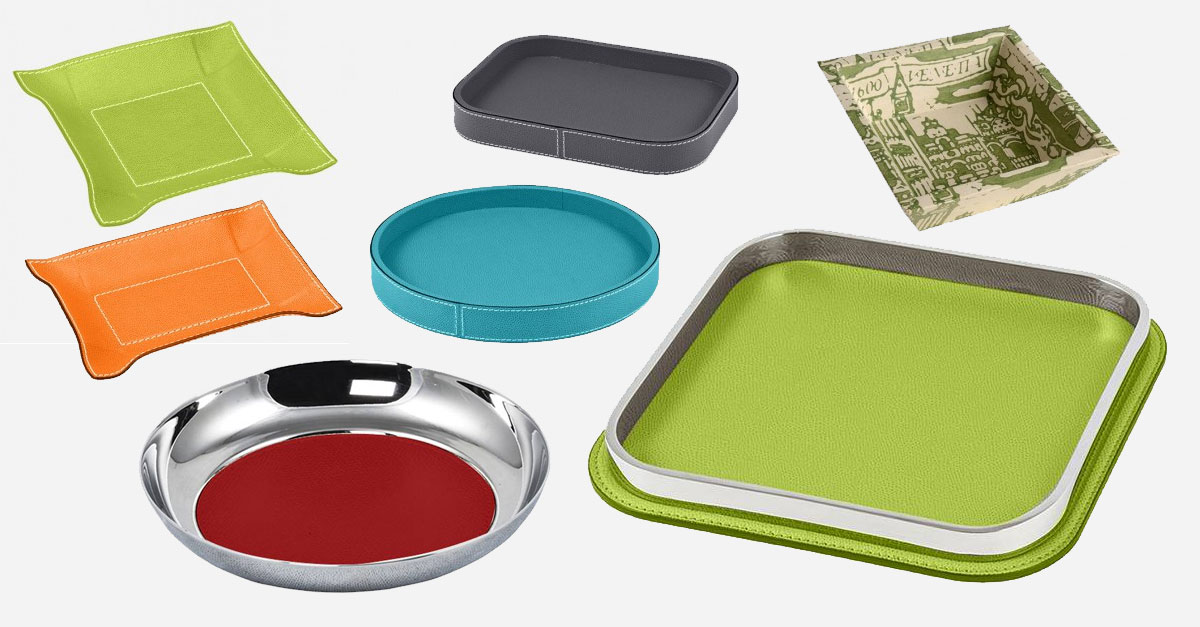 This object combine practicality and elegance, so Luxury Unique Gifts selected for you: handmade artifacts able to bring a touch of elegance and refinement that your place probably need, taking advantage by products made entirely by hand in Italy.
In particular, it is possible to choose between stunning Leather Valet trays tanned in Italy, or other models made out using printed paper. As for the leather ones, the paper covered trays are available in different sizes and colors. For the Leather ones, Some are square or rectangular shaped, and have a solid metal structure covered in genuine calf leather: our valet trays are elements particularly elegant and able to enhance every corner of the house, wherever you will place them.
The round leather format, on the other hand, is crated starting from a wooden structure, also completely covered in genuine calf leather, which guarantees solidity and great resistance over the time. For each model you can choose size and the color, picking up you favorite.
The selection of our valet trays with printed paper are also very elegant and practical, covered with unique hand-printed decorations that recall the classic Venetian themes.
These are perfect items for your home but also for the office, useful to leave your small items keeping them always safe and handy. You can decide to enrich your purchase by printing on the skin your initials or those of the person to whom the gift is intended, making your gift more valuable and personal. Not only a useful and refined element, but at the same time a truly original gift idea, original and signed by the best manufacturer and Italian style.
Discover the selection of Valet Trays in our catalogue!