If you are looking to get an office that allows you to work comfortably and at the same time that reflects your style, here you will find the genuine leather desk accessories that we have selected especially for you.
Whether they're intended for large companies or small professional's office, the perfect office will not look complete when lacking of these specific items or accessories. Thanks to their refined and discreet design, the desk accessories that Luxury Unique Gifts displays, are perfectly matching with any type of office or environment, regardless of the style of the furniture.
These precious handmade products are entirely made in Italy using genuine calfskin, and represent a perfect opportunity to add a touch of sophistication, or maybe as a gift idea surely appreciated. We are talking about our very elegant desk-blotter by Giobagnara, both in the openable version and in the standard version, or about pen holders available in different shapes and with one or more lodgings, refined letter holders, notepads, trays and documents holders, magazine holders and waste paper baskets, bookends, valet trays and boxes of all sizes, everything made using first quality calf leather.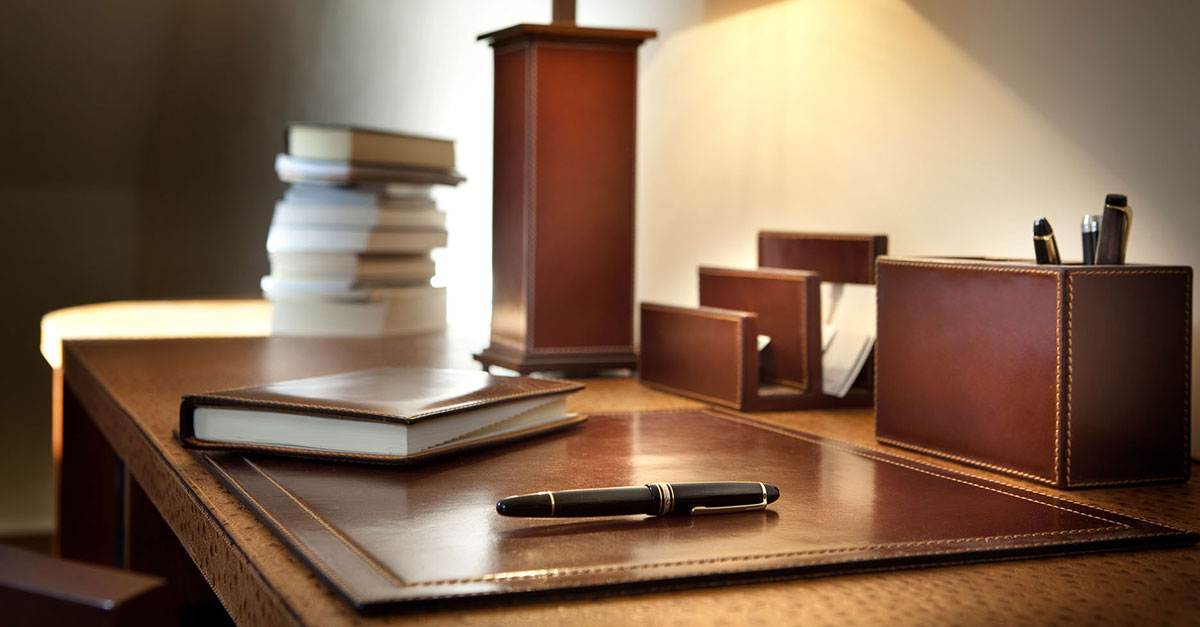 Italian quality
These are just some of the ideas that Luxury Unique Gifts has selected for you. Their durability is guaranteed not only by the quality of the raw materials, but also by the work processes that the best artisans use daily to proudly create our Italian products. We own probably the widest selection of leather accessories for desk found in a website. Going through our collection you will notice the precise refinement of the materials and workmanship, great details that gives important contribution to your furniture style.
Anyhow the most important part of all these characteristics is the leather processing process that enhance the uniqueness and refinement to your place.
Most of the items included in our Luxury Unique Gifts collection can also be customized adding initials on the leather, or simply choosing the same-color stitchings. Each object is also available in a variety of sizes and shapes, as well as different colors.
If you are thinking to add a touch of elegance and refinement to your work environment or office, the desk accessories we have carefully selected for you.
Browse our desk accessories selection.