An elegant tableware is the right choice to enrich your place with a special touch, refinement and color. Anyone tend to to impress guests and friends showing good taste in choosing the right accessories and being able to match design and style with the dining room, completing it in a creative way.
We suggest these options showing beautiful range of table sets through Luxury Unique Gifts: an elegant selection of carafes, leather trays, glacettes, trays and cups, available in a variety of shapes and colors, making easy to identify the product that best suits to your environment and style.
All our products are handcrafted, therefore made by skilled hands of Italian professionals, producing and working with high quality leather, enhancing its characteristics and uniqueness.
Just take a look at the products in this category to find out the great variety and quality of our items among which you will choose the perfect ones, with the certainty of buying a product designed to last forever thanks to the best raw materials and processing techniques.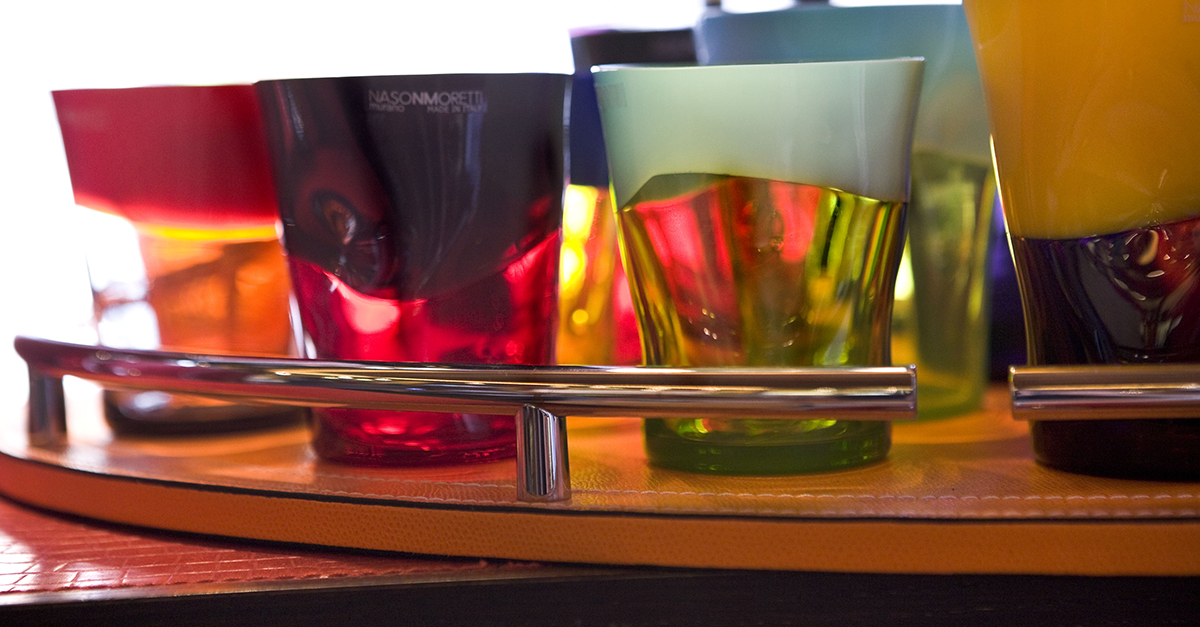 Full sets of Murano glasses, carafes, wine glasses and flutes will be certainly able in enhancing you house thanks to the chromatic and beautiful colors that characterize each piece: it will be a very good choice if your aim is to combine style and color.
On the other hand, all the leather products such as glacette, ice bucket, set coasters, chargers, placemats, trays and thermal carafes, will add value , "prestige" and elegance with refinements, thanks to their charming look and its particular work processing, making each object a unique piece that will add modern design to your table.
Also you will be able to customize your purchase by adding your initials on the calfskin or on the handmade glass, in order to get a unique and precious gift or for yourself.
For a gift to someone special, or if you want to make a valuable surprise to your partner choosing something that is really useful at home, yet if you want to treat yourself with a special piece for your home, getting something that describes quality of made in Italy, the range of table sets that Luxury Unique Gifts has selected for you is the best option you could wish to find.
Discover out tableware selection.