There are creative and original gift ideas that can amaze and truly intrigue the ones receiving them, thanks to their incredible look, design to amaze and conquer.
Luxury Unique Gifts is very proud to showcase the beautiful miniatures created by the artist Manuzio: real masterpieces, pure art and the perfect result of pure passion; able to tell a story in a tiny world, inspired by famous people, or professional, theme etc... A miniature library is special representation of life, capturing fragments and details from the past and the present: a really unique and special piece of art. Looking into it carefully, going through the small details, in fact, will let you discover a special universe, made by objects and special references.
The artist collects most of the tiny pieces of the miniatures while traveling, also adding all the reproductions of mini-books to display. These special objects are characterized by the presence of many small items placed on various shelves, which give an impressive feeling of something absolutely realistic, surrounded by the magic and the creative look of it. The miniature lets you travel from one place to another, jumping from on e era to another. For instance the libraries with reference to the medical subject, displays different ampoules, medical liquid, surgical instruments, pills and tablets, etc..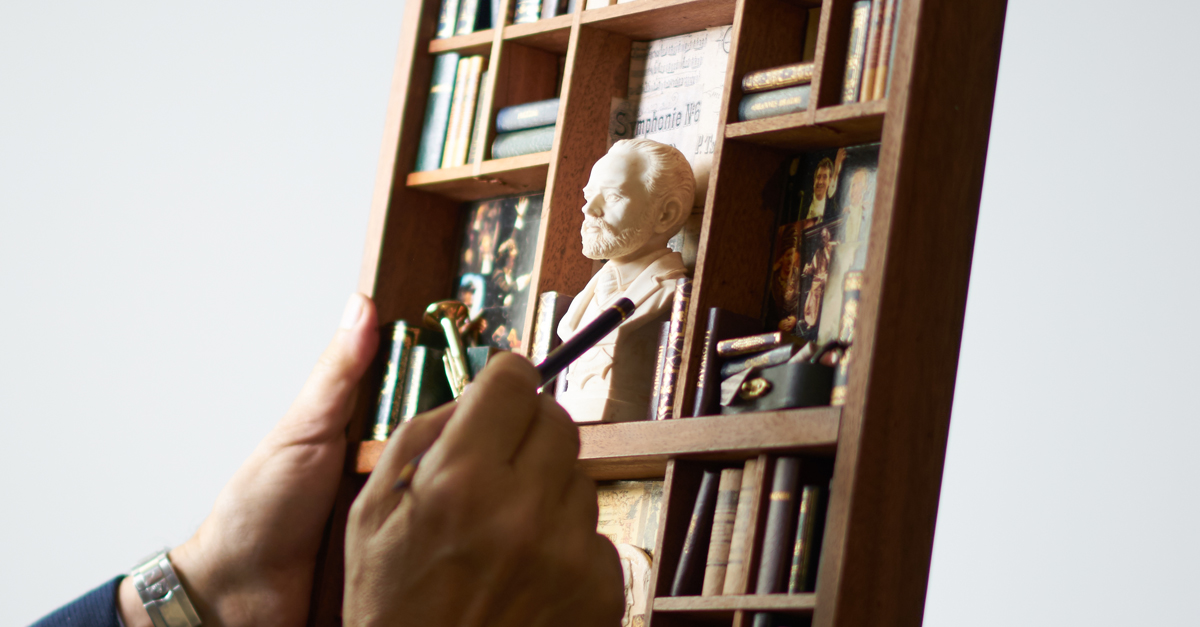 Also Manuzio has been inspired by the history of musicians, presenting not only volumes inspired by the greatest masters of classical music, but also scaling down and reproducing beautiful musical instruments, pictures of the great contemporary and from the past interpreters, busts, and many other objects, combined together in order to represent the atmosphere and the beauty of each subject chosen by the artist.
Among the selection of our available miniatures, we'd like to mention the one concept specifically for seaside lovers and navigation, enriched by the reproduction of ancient sailing ships , compasses and many other tools used for navigating; still maps and all the most important books related to this theme, made with elegant leather covers.
Really beautiful and great gift ideas able to amaze and please the person receiving them, thanks to their uniqueness and class. Not only bookcases but also many refined and special creations, such as the miniatures of elegant English desks, kitchen furniture, Venetian furniture and pharmacist desk; each one carefully assembled and designed with extremely attention to details telling stories with passion and art. The miniatures are a small world full of elements, history and creativity.
A very fine and unique artistic complement.

Discover our miniature library selection.