Nowadays document holders are essential accessories for those who need to bring all the necessary work material with them, in order to have everything planned and organized even when out of the office.
Document holders that Luxury Unique Gifts suggests, are solid and resistant but at the same time, that reveal a sober and elegant appearance, anyhow a high-quality accessory with a fine Italian workmanship. Made using genuine leather, they are also particularly suitable for those who wish to maintain a high profile in terms of working related accessories, allowing to be carried out with ease.
An elegant leather document holder crafted by skilled artisans is therefore a perfect personal item, meaning having your work related paper and stuff handy, that also add great style. These excellent products are highly resistant, perfect to be used every day thanks to their quality, projected designed and realized to last over the time..
One of the most important advantages of using a document holder is that it will be easy for you to carry the paperwork and other stuff you need. Having a document holder is certainly a very common solution adopted by those who need to take part of their work with them, but at the same time it can be a nice gift idea, made by great quality of workmanship and by the finishes. There are several colors choices from where you can pick up your favorites, matching with your tastes, from the darker shades to the lightest.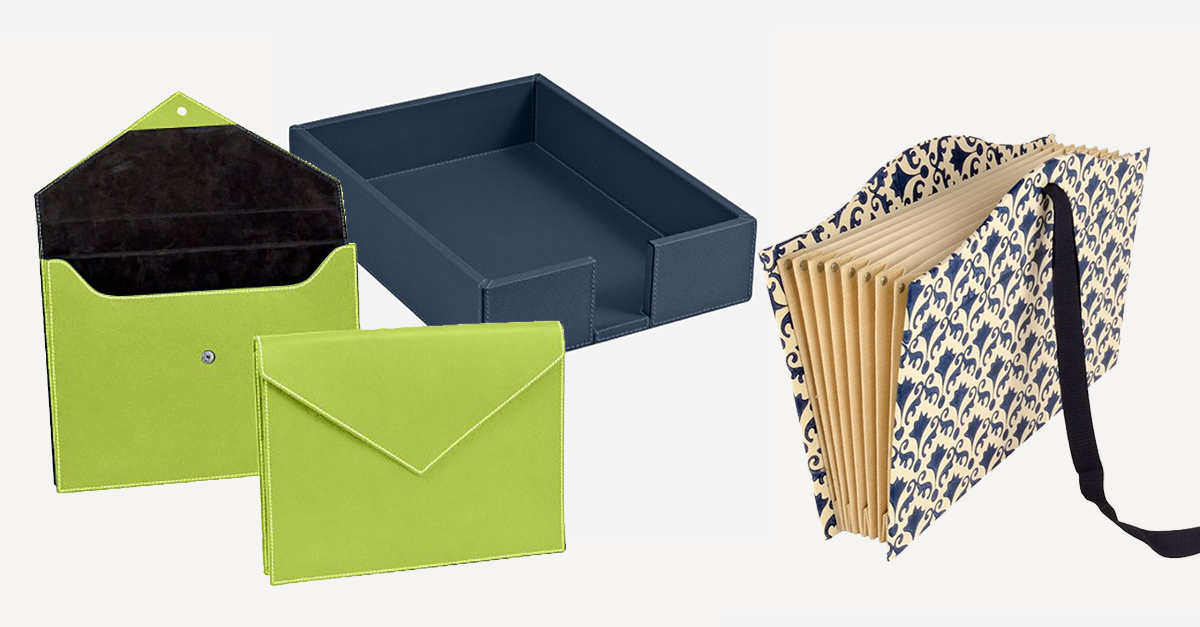 Document trays
Luxury Unique Gifts has selected for you also elegant A4 trays that will make your office or working place even more special and original, perfectly encountering any type office look and of style, and any type of furniture. Extremely solid by its wood structure that characterizes them, fully covered by scratch-proof and resistant leather, this object let you place your documents keeping them safe and tidy.
Also there are the handmade paper ones to choose from, inside which you can store documents, letters and certificates or other important documents. These particular and unique accessories are finely worked and enriched by the Venetian hand-printed patterns, realized by artisans according to the traditional process of the 17th century. You can choose your favorite theme (Venice, the Baroque period, Palazzo Ducale etc...) as well as different colors and shades, created by the artisans mixing the raw liquids. This document holder is finely foldable thanks to its elegant laces, making it extremely fine and classy.
Browse our document holders selection.