Our leather mousepads have been selected for you and are made out of genuine calf leather by the most skilled and experienced craftsmen.
Leather is an ideal material for a mouse pad, as it comfortable for the wrist ideal for using your mouse as it will easily slip on it. A material that is absolutely pleasant to the touch, therefore designed to last a lot longer than the usual plastic mats that normally gets stained, worn and damaged, making difficult its use the and working with your PC.
The base of our small mats is made using an anti slip fabric, that fits perfectly to the table surface and protecting it.

Nowadays, the daily use of a PC for personal or professional reasons, for several hours a day, involves the need to use comfortable and functional tools for working in a more pleasant, comfortable and fast way. A non-quality mouse pad, for example, might cause inflammation or get pain to the wrist or to the hand itself, especially when its surface used is not properly "flowing"or when it causes the hand to perform small unnatural movements which, if repeated for some hours a day, may have annoying consequences of this kind.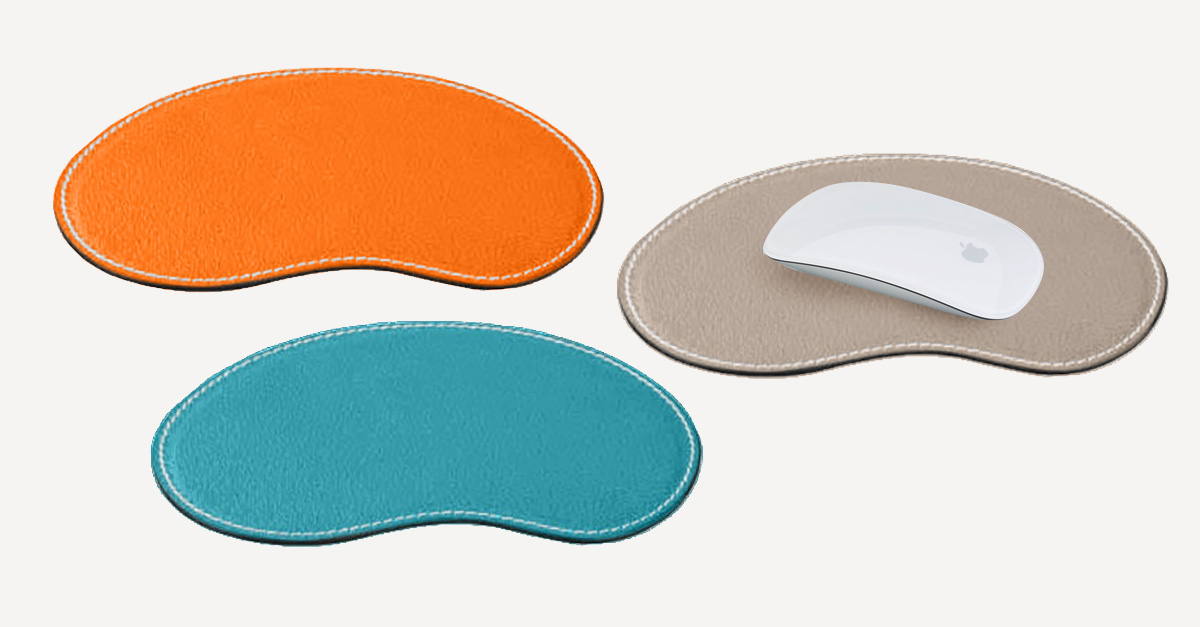 A refined Italian product
The soft leather with which these modern and elegant mousepads are made, is refined by the finest hand-stitched seams that highlight the edges with beauty. You can decide to customize your mat choosing whether or not having tone-on-tone stitching, also getting your initials printed on the surface, or a small dedication for the person receiving this highly appreciated gift. Luxury Unique Gifts leather mouse pads are also the perfect idea for an original gift, expressing esteem and appreciation, to your customers, colleagues or friends. This product combine tradition and artisan work with modern and luxury design. This is about an elegant desk accessory able to protect table from the use of your mouse, including a high quality and smooth surface on which to use it, made using genuine calf leather and therefore extremely valuable.
You can choose your favorite among 11 different colors, or the ones that easily match with your personality and taste: from lighter shades (such as ivory, green, turquoise or orange) to the deeper shades (such as black, graphite, blue navy and brown).
Having the initials engraved on the leather will definitely make this good more unique making.
Browse our Mouse Pads selection.