A leather box made by Italian artisans is a precious handmade product able to keep and protect all your valued belongings or, if you prefer, everyday life objects.
In fact, we all feel the necessity to have boxes for disposing all the accessories or products that we want to keep safe and handy, tidy and without worrying about losing them. For this reason, Luxury Unique Gifts offer a wide range of leather boxes, extremely elegant and fine, ideal for domestic use as for your office or commercial purposes.
All Made in Italy only using genuine high quality leather, these boxes are designed and realized in different colors, shapes and sizes (long, rectangular and squared ones) to let you find the box that exactly suit and satisfy your needs. These exclusive products made by calf leather claim an high manufacturing quality artisanal work (handmade stitching too) and they are water- and scratch-proof and resistant over the time.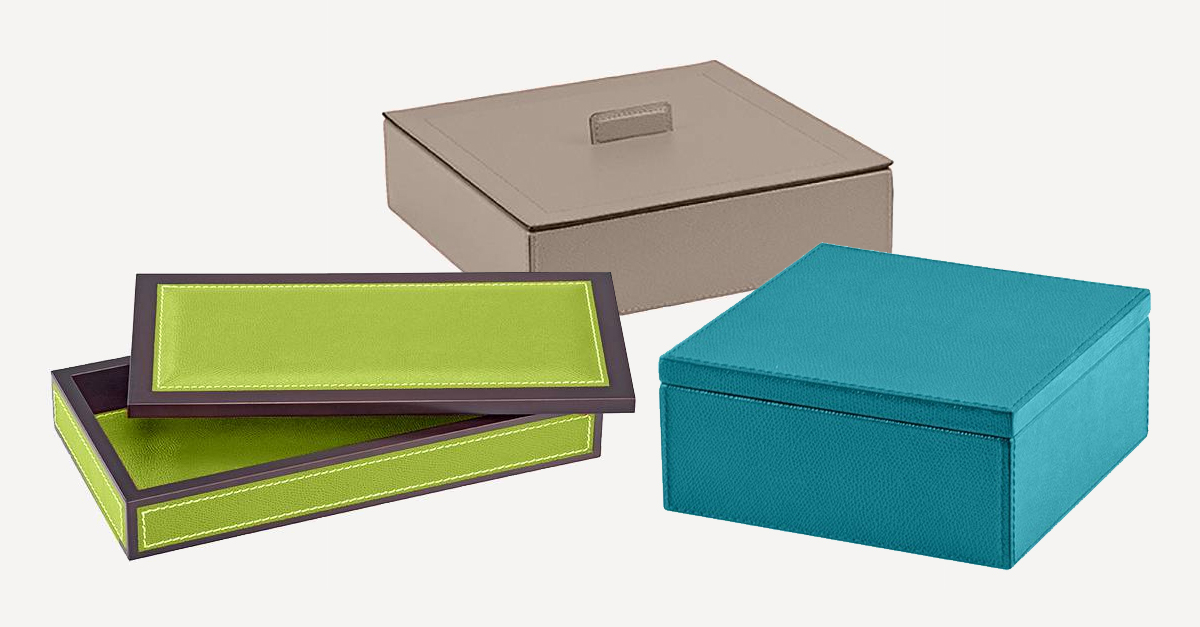 We talk about unique and elegant products able to easily match with all types of furniture and surroundings (domestic or working ones), bringing luxury, refinement and design.
Almost all the proposed leather boxes are equipped with a lid for closing, so you can keep safe the objects you decide to keep in them. Also cube ones are very elegant, made by leather as well; they are perfect to be used as space assigned for storing magazines and journals (really important for tidying and for its design in your home or office), to be used as organizer for your wardrobe or simply as an elegant container to place various objects that you want to keep safe without losing them.
In the end, the low leather baskets are particularly classy and precious, rectangular or square shaped according to your taste; ideal to keep tidy small objects or to be placed inside wardrobes, cabins or drawers.
Choose the box that suits the best your needs and taste, gather your belongings in a practical and elegant way thanks to the beautiful leather boxes that Luxury Unique Gifts designed for you and that proudly propose.
In order to make your purchase more precious, you might decide to get a personalization , for example about the stitching (tone on tone or on a different color) or getting your initials engraved on the leather.
It's a great occasion to make your buy truly yours and personal, at the same time a great idea for offering a special gift to a really special person, to whom you decided to give sophistication and elegance of a leather product entirely Made in Italy by skilled and passionate artisans.
Browse our Leather Boxes collection.