Often a little underestimated, the wastepaperbin for office is an essential element within any professional environment. It will help to keep the premises clean, and quickly throwing away what you don't need any longer. In our website you can choose the ones you like upon your wishes and budget, some models are made of genuine calfskin leather, others using hand-printed paper.
Let's talk about accessories for your office finely crafted: these products will add elegance and refinement to any type of office or commercial space. The leather bins for example, are the perfect idea to give greater color to each work environment: those with the circular base version and either those with the square base version. The handprinted paper ones, however, are specifically designed displaying themes recalling the Venetian tradition, in order to enrich all your rooms with their strong historical references.
An excellent opportunity, to add an original signature to your working premises, getting this great and practical accessory. The paper made bins are original and fines thanks to the handmade work that characterises each piece, showing the quality of products proudly handcrafted in Italy.
The elegant office waste paper bins proposed by Luxury Unique Gifts are particularly appreciated because they will add an extra touch of class to your surroundings, and everyone will definitely notice it.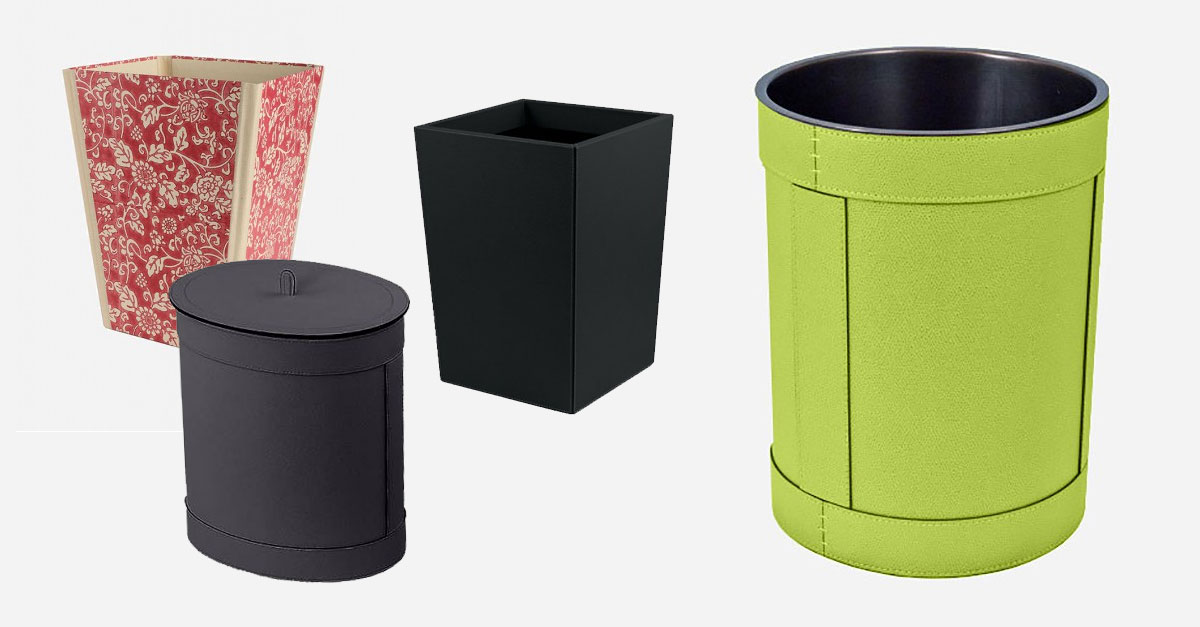 Some of our leather bins are made with an inside removable part, using the bronze component, which guarantees impermeability, ease in cleaning it and durable over the time. Some other are made using solid wood structure, adding great solidity to the product and destined to last over time. You can choose among eleven different colors, and more kinds if you decide to go for the paper version. You might also customize your purchase by printing the initials or sentence on the leather surface, creating a special gift that will be appreciated by your friends or dear ones.
The model covered in printed paper instead, has a special feature that makes it particularly adaptable to the needs of many: in fact it is assembled in such a way that it can be folded for saving space, making it perfect for traveller lovers. About this kind you will get 6 different themes and patterns that recall the Venetian tradition, plus floral decorations and even one dedicated to cute dachshunds.
All these products are designed to enhance your environment, at home or at work. Special handcrafted gifts made in Italy using only high quality materials, ideal for those who like combining the convenience of the accessories with design and luxury.
Browse our selection of waste paper bins.